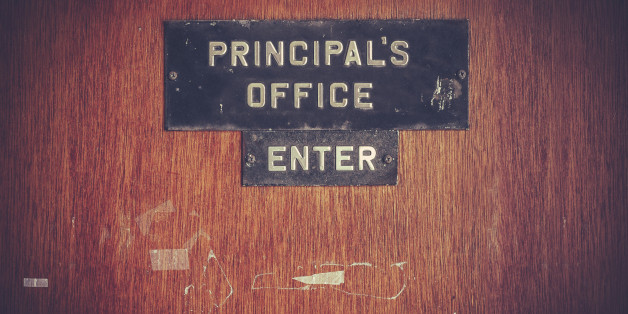 Photo: MRDOOMITS VIA GETTY IMAGES
By Alan Singer
Hedge fund billionaires and major politicians like President Obama, Republican Presidential contender Jeb Bush, and New York State Governor Andrew Cuomo love charter schools. For Obama, Bush, and Cuomo they are the miracle cure for what ails American education. Los Angeles is considering a proposal Broad Foundation to turn half of its public schools into charters by 2023. But what is the "miracle" behind claims for higher student test scores at some well-known charter schools? It may simply be "lock them out to drive them out." Let's look at the Success Academy Charter School Network, whose schools would more aptly be named "Suspension Academies."
According to a report by the website Chalkbeat, in New York City charter schoolssuspended students at about three times the rate of traditional public schools. Chalkbeat found that "charter schools suspended at least 11 percent of their students that year, while district schools suspended 4.2 percent of their students." Their study also concluded "The charter-school suspension rate is likely an underestimate because charter schools don't have to report suspensions that students serve in school."
In a PBS NewsHour interview with John Merrow, Eva Moskowitz, CEO of the Success Academy Charter Schools bragged about high test scores and parental applications for the networks entrance lottery. But she was much more defensive when questioned about the charter school network's code of conduct and suspension policies. Merrow also interviewed Marie Chauvet-Monchik, Principal of PS-138 Brooklyn on the show. Chauvet-Monchik was adamantly opposed to suspending from school children in younger grades. According to Chauvet-Monchik, "When you send a child home, the child is missing instruction. So, I'm actually robbing the child of an education if I suspend the child."
Merrow then turned to the Success Academy Charter Schools where discipline for their "scholars" is much more punitive. According to Merrow, "Last year, principal Monica Komery issued 44 out-of-school suspensions to her 203 kindergartners and first graders." Her school is one of 34 Success Academies operating in New York City. The schools are publicly funded, but under private control. Komery admitted "We do have a zero-tolerance policy around certain behaviors," but claimed "I don't just suspend children as the first course of action" and argued "It's well-thought-out. It's a process, and there are systems in place."
Moskowitz, when interviewed by Merrow, defended the suspension policy because "If you get it right in the early years, you actually have to suspend far less when the kids are older, because they understand what is expected of them.
According to Merrow, Success Academy's "code of conduct runs six pages and identifies 65 infractions, from bullying and gambling to littering and failing to be in a ready-to-succeed position." These policies seem more like preparation for "Walking while Black" in Stop-and-Frisk New York City than a school discipline code. A former Success Academy Upper West student, interviewed by Merrow, told how he was "ticketed" if his shirt was out of his pants or if he wore the wrong color shoes. If these Success Academy "infractions" are repeated they can trigger an "out-of-school suspension." Because of these policies the suspension rates at Success Academy Charter schools are almost three times higher than in regular New York City K-12 public schools. The figure is even more outrageous because seventy percent of Success Academy "scholars" are elementary school students.
Moskowitz defended the networks zero-tolerance policies as a way of maximizing "freedom" and the suspension of children as young as five for "using sexually explicit language," which she called "very upsetting." Merrow however would not let her off the hook. It seems the code also called for suspension for "calling out the right answer twice without being called on."
According Success Academy critics, the suspension of young children has little to do with improving student conduct. It is really a policy designed to jack-up average standardized test scores by pushing out any potentially troubled or poorly performing youngsters. Moskowitz dismissed these charges as "just crazy talk."
However at one Success Academy school eleven kindergarten and first grade students were suspended a total of forty-four times, including one student who was suspended twelve times until the family transferred the child to a public school. At another one of Moskowitz's schools thirty-two students were suspended a total of 101 times. Parents told PBS reporters that " young children were sent home multiple times for infractions like not paying attention or for getting out of their seats to look at the bulletin board." Despite Moskowitz's facile dismissal of Success Academy's critics and charges that it suspends students to boost test scores, Success Academy schools have an attrition rate at least twice as high as at other major charter school networks in the city.
There are other causes for concern with the Moskowitz approach to "success." Success Academy staff is disproportionately White and transient. In 2012 59% of teachers in the New York City public schools were White. But according to one study, at ten Success schools the teaching staff was over 70% White. Additionally, about a third of the staff leaves every year before they ever learn how to really teach. One anonymous Success Academy employee posted online "Success Academy Charter Schools has exceptionally low morale and exceptionally high employee turnover due to the utter disregard and even disdain with which the senior management treat the majority of the employees. Members of upper management have been known to throw work at employees, make culturally insensitive comments (a huge gaffe considering the diverse populations we serve), and to suggest that employees must have deep-seated personal issues if they seek encouragement or feedback from their managers."
To compensate for the teacher turnover rate, Success's minimally qualified teachers are often "certified" through "Success Academy" education programs and in classrooms they are expected to follow scripted lesson plans. Under these circumstances it is not clear to me how even the most enthusiastic young teachers can develop sensitivity to the needs of diverse student populations, especially students who may be from backgrounds and with experiences that are far different from their own. This may well explain the need for "lock them out to drive them out."